Transitions can be the source of many toddler meltdowns. If you're a parent of a toddler, you've been there. Often giving up a desired object or activity for a sometimes less desirable activity (i.e. Lunch- heaven forbid we make them eat!) can be quite challenging. Not that it necessarily gets easier as we get older, I don't like to stop watching the Real Housewives of wherever to go to sleep some nights, but as adults we are able to cope better. To help with easing toddler transitions, I have 5 simple tips for you. And, with the help of ATracker (App store), some of these should be a breeze!
This is a sponsored post written by me on behalf of ATracker by Wonderapps for IZEA. All opinions are 100% mine.
Tips for Easing Toddler Transitions
Use a timer. It's very hard for young children to understand exactly what you mean when you tell them that they have 5 min left to play outside before going in and getting a snack. Using ATracker, you can schedule a task, set a time limit, and an alarm will sound when the allotted amount of time is up. The sound of an alarm is a tangible cue that can really ease the transition for the child.
Before, during, after. Remember this language when gearing a child up for a transition, and when reinforcing a positive one. For example, when leaving the park you want to say "We are going to leave the park and then get in the car to go home (before). I like how nicely you listened when I said it was time to go, now you are walking to the car like a big girl/boy (during). We had a good time at the park, now we are driving home and we will have some lunch (after)."
Use simple, concrete language. Kids like to know exactly what you expect of them. Using the park example again, rather than saying "we will go soon", ask them to choose two more things to do. If they choose the slide and the swings, let them know that after one more time on the swings and one more slide, it will be time to leave.
Stick to a routine. Having a general routine to the day will help your child understand what is coming next. It can be a general routine to allow for errands, Drs appointments, etc. But, if your child knows that after dinner they take a bath, the transition will be much smoother. ATracker provides a calendar that you can use for yourself but that can also help with a routine for your child. By scheduling your day and using the icons to denote what you will be doing, toddlers can look at the schedule and get a sense of what will be happening without having to read. It almost creates a picture schedule for the day, and is easy for parents to manage.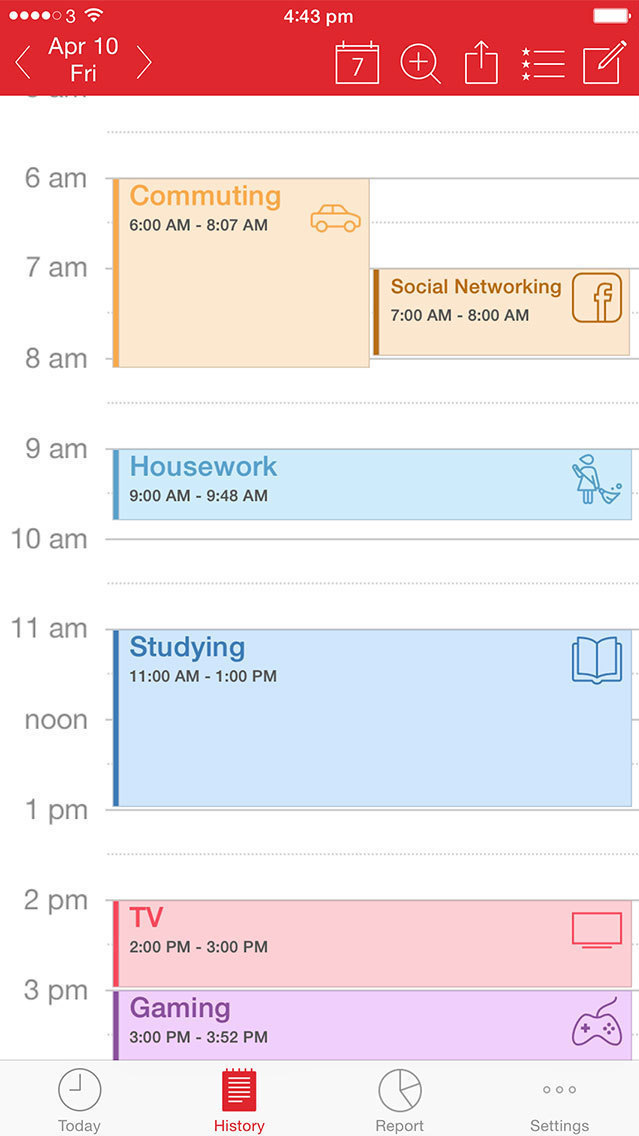 Encourage choice making. By giving your toddler some sense of control over what is happening, they are much more inclined to abide. Try to find choices even when there doesn't seem to be an obvious one. If it is lunch time and you already know what your child will be eating, offer them a choice of which utensil or color of plate they would like to use.
Summary
I hope all of these tips will help your with transitions in your household! ATracker also provides you with some data and feedback about how much time you are spending on certain activities. A great tool for parents. Remember the 5 basics: use a timer, use before and after reinforcement, simple language, choice making and routine. Enjoy every minute with your little one, even the ones spent easing toddler transitions 😉
---
Want more articles about managing emotions in little ones? Don't leave before reading (or pinning) these!
Tips for Calming the Angry Child PLUS 8 Calming Tools to do ANYWHERE
Setting Up a Calm Down Area for Toddlers and Preschoolers
Ditch the Handbook: 3 Pieces of UNCONVENTIONAL Parenting Advice